Free delivery when you spend £100
Certified Scottish Gin
All our packaging can be recycled
Wolfcraig Gin is a classic London Dry gin distilled with a spectrum of classic gin botanicals, including juniper, cassia, orange and lemon peels; combined with several foraged botanicals from the local landscape. Created under the watchful noses and palates of Richard Paterson and Ian MacMillan, this first release Scottish Gin comes after many years of judging at some of the world's most prestigious spirits competitions. The result is a sophisticated, complex yet balanced flavour profile that works well as a classic gin and tonic but also stands up in a classic Martini cocktail.
Flavours
Citrus
Spiced
Piney
Sweet
Nose
Clean and fresh with juniper-forward nose, balanced out with bright citrus with spicy depth complexity.
Taste
Sweet notes of citrus and spice, crisp and palate cleansing.
Finish
Long finish with spicy base notes.
How to enjoy this gin
It is recommended you serve this gin as you would a classic London Dry style profile. As a longer serve, with tonic, simply add a splash of tonic and a twist of lemon. With its higher ABV and juniper and citrus flavours, this also stands up well in a classic Martini cocktail.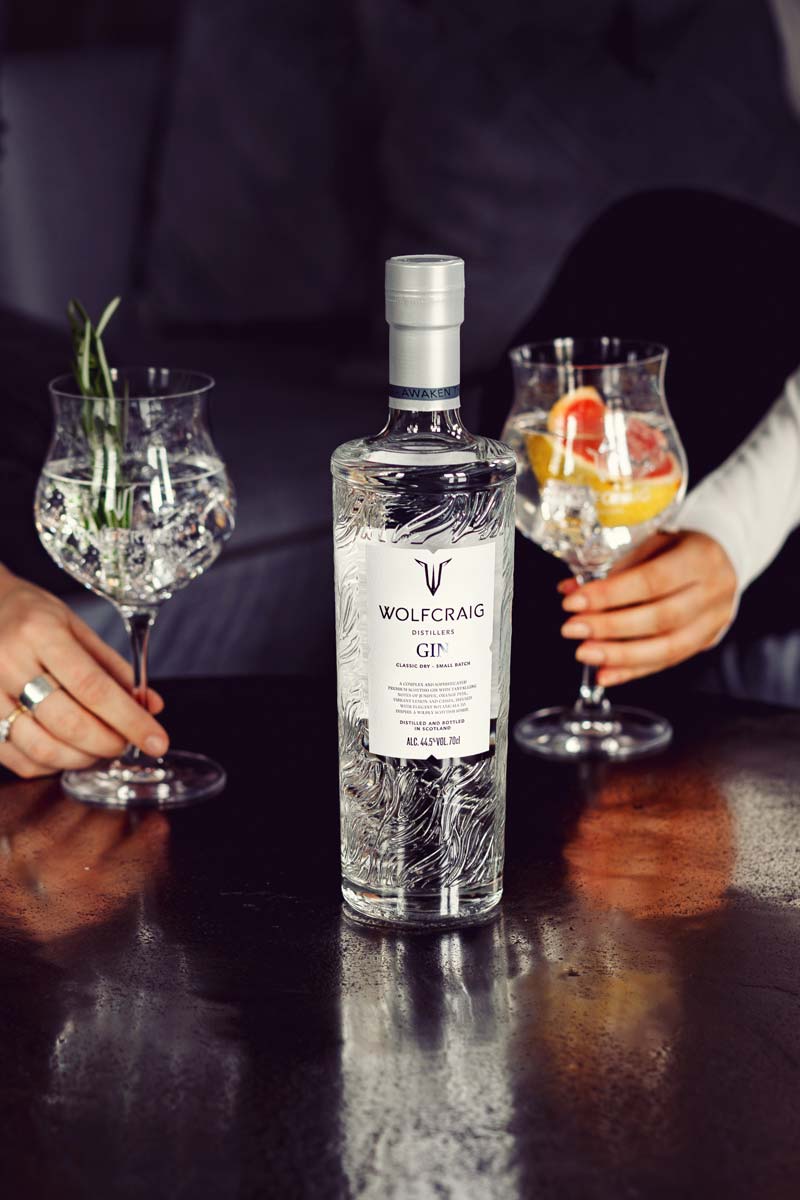 About Wolfcraig Distillers
The city of Stirling has seen kings and queens, knights, Vikings and battles. History and folklore can be seen and felt in the city and surrounding area, which has helped shape Scotland over the centuries. It's said that one such event was when a horde of Norse invaders was set to attack a Celtic garrison on a dark winter's night. A sleeping wolf cub was awoken when its paw was stepped on, breaking the silence and setting of howls from the wolf pack. It was this startling call that alerted the garrison. A bloody battle ensued, which saw the Celts fend off the invaders. Today, the battlefield is known as 'Wolfcraig', and the wolf has long been considered the "Protector of Stirling".
Production
Wolfcraig Distillers was co-founded in 2017 by John Moore and Jamie Lunn with support from the late, much-missed and highly respected former CEO of Whyte & Mackay, Michael Lunn. The leadership team includes spirits industry veterans Ian MacMillan and Richard Paterson OBE. The long-term plans for the business include the construction of a new distillery and visitor centre designed to put innovation and sustainability at the heart of everything the distillery does. In the meantime, the gin is made at an undisclosed location in Scotland.