Free delivery when you spend £100
Certified Scottish Gin
All our packaging can be recycled
Distilled in a Lomond pot still affectionately known as 'Ugly Betty', The Botanist Islay Dry Gin features 22 hand-foraged local botanicals, which delicately augment nine berries, barks, seeds and peels. A slow simmer distillation allows the delicate botanicals to release their complex, signature aromatics. The result; a highly distinctive complex, floral gin with outstanding finish and impeccable provenance. This Islay Dry Gin is a rare expression of the heart and soul of its remote Scottish island home.
Flavours
Citrus
Earthy
Floral
Spiced
Sweet
Herbaceous
Nose
Immediately a bouquet of herbal freshness, juniper and sweet citrus come to the fore. Allow a little time to open and the sweet, spicy and earthy notes of cassia and coriander set a base for the delicate complexity. The scent of Islay botanicals gently rises, winding their wild aromas of mint, thyme, sweet gale, gorse, camomile.
Taste
Rich and mellow, cool on entry then warming across the palate, stimulating the taste buds with a round mouthfeel and citrus freshness. The balance and complexity are distinctive. With sweet and earthy notes combining with delicate floral and herbal notes. Each sip reveals deeper layers and more complex combinations of delicate flavours.
Finish
Rose petals and rosehip give the gin a smoothness and length of finish.
How to enjoy this gin
Relaxed and balanced. Water mint, hawthorn, wood sage, sweet cicely, cinnamon, citrus, soft juniper – a harmonious combination held together with a gentle, satin soft texture. The viscosity from an achingly slow distillation brings out the delicate essence of Islay, expressing a different balance of flavour, a different combination of botanicals, upon every taste.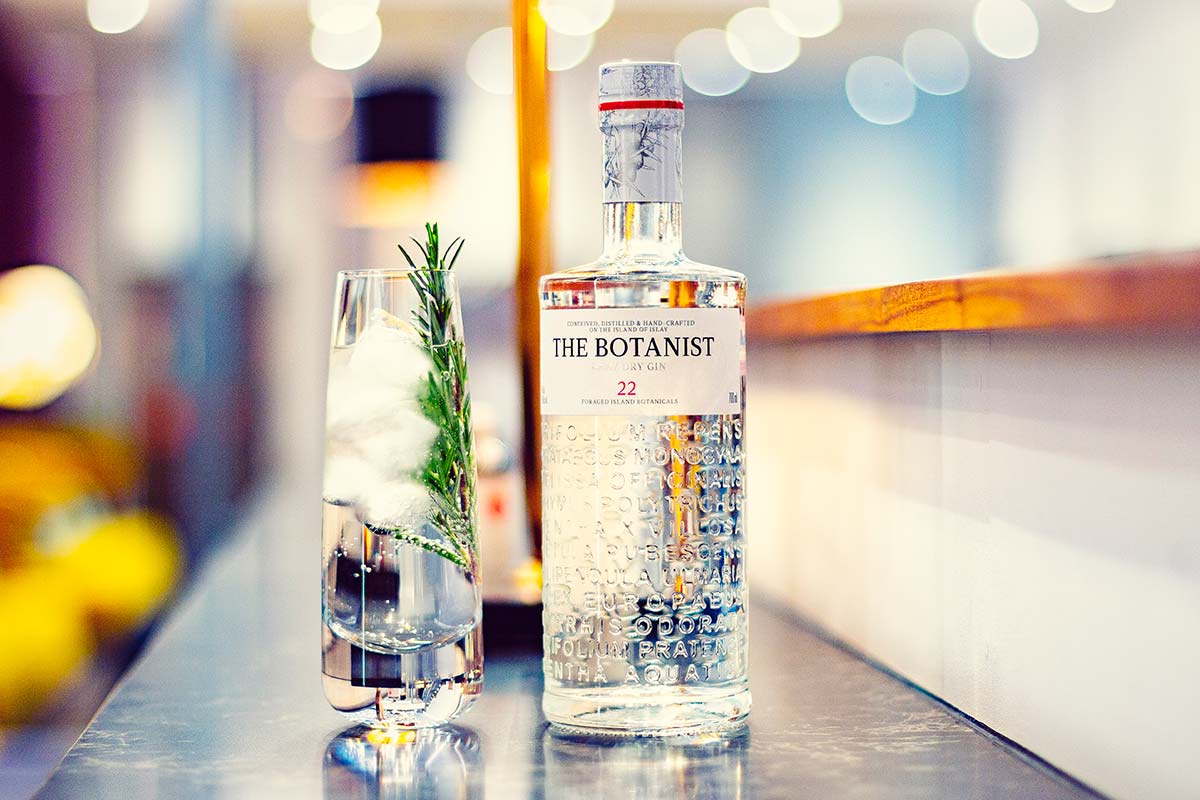 About The Botanist Gin
In 1994, the remote Bruichladdich Islay-based distillery closed for what could have been the last time but fortune favours the brave and in 2000 a consortium led by Mark Renyier and Simon Coughlin purchased the derelict buildings and remaining stock. Persuading the world-renowned distiller Jim McEwan to join them on their adventure at the time, the distillery reopened its doors in 2001. From this rebirth, the progressive Hebridean distillers have continued to push the envelope and in 2010 created the Botanist Gin to add to their crafted range of spirits. After a long reign in charge of production, Adam Hannett took over from Jim in 2015, using the same recipe, process and pride to make every bottle of The Botanist Gin.
Production
From the rebirth of the Bruichladdich Distillery in 2000, The Botanist Gin was created in 2010, adding to their range of crafted spirits. The uniquely distilled gin features twenty two hand foraged local Islay botanicals including lemon balm, water mint, wood sage and gorse. The Botanist Gin is distilled slowly in a uniquely modified Lomond still, resurrected from the old Inverleven Distillery in Dumbarton brought to Islay on a barge.