Free delivery when you spend £100
Certified Scottish Gin
All our packaging can be recycled
Legend tells of a sword wielding viking by the name of Magnus Barelegs, the King of Norway, circumnavigating his longboat around the peninsula of Kintyre before landing ashore and claiming Kintyre as his own. Tarbert Legbiter is a fitting tribute to the bold, strong king. Bottled at 57% ABV, this Navy Strength gin was originally created as a limited edition gin as part of the Kintyre Gin club. The gin proved so popular it was added to the core range of spirits. Distilled using hibiscus flower and pink peppercorns, the flavour profile is described as sweet and light on the palate, with floral and spiced notes.
Flavours
Piney
Sweet
Floral
Spiced
Nose
The nose is light with delicate floral notes, warming into gentle spice and pine aromas.
Taste
Sweet and light on the palate with a floral midsection.
Finish
Dry, lingering spice finish.
How to enjoy this gin
This gin should be sampled neat to appreciate its high strength qualities. Or simply add a splash of light tonic over ice and pink peppercorns to garnish. It's also recommended with ginger ale and a slice of fresh ginger over ice.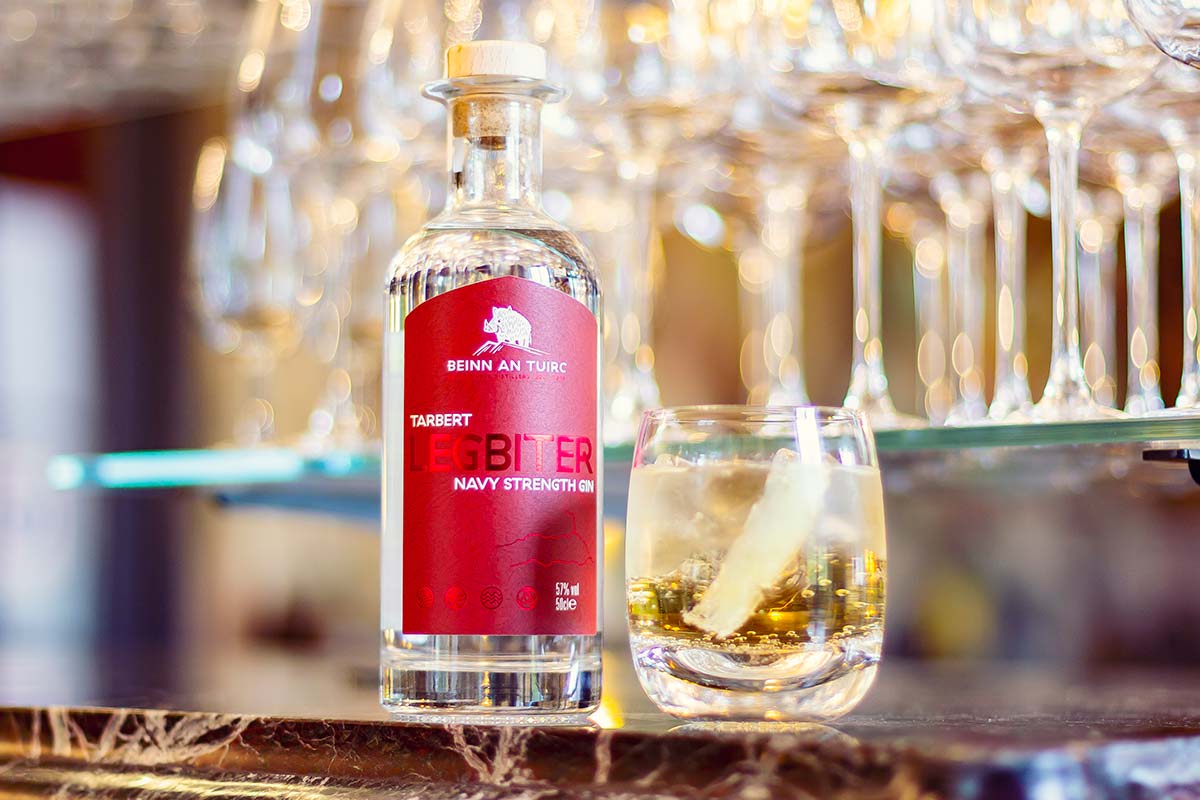 About Beinn an Tuirc Distillers
Beinn an Tuirc' translates from gaelic as 'The Hill of the Wild Boar' and is the highest point in Kintyre, located above the distillery. The range of Kintyre Gins are sustainably produced using the distillery's own renewable energy, powered from the small hydro-electric scheme at Torrisdale Castle Estate. The water too, is sourced from the very hill where they take their name. Kintyre Gin was created to reflect the distillery's unique coastal, pasture and woodland position on the east coast of the Kintyre peninsula.
Production
Beinn an Tuirc Distillery occupies a former piggery building located on the Torrisdale Castle Estate in Kintyre, Scotland. Torrisdale Castle Estate has been in the ownership of the Macalister Hall family since 1872 and over the years has benefited from innovative diversification and in 2020 they generated more energy than they used, with an ongoing focus to reduce their carbon footprint. The Beinn an Tuirc Distillery features a distillery, tasting room, shop, gin school, cafe and walled garden with plans for potential whisky stills and more. Their still, 'Big Don', produces a variety of gin expressions and other spirits and liqueurs.