Free delivery when you spend £100
Certified Scottish Gin
All our packaging can be recycled
Dark Art Distillery's signature Sky Garden Gin has a classic London Dry Gin flavour profile. Inspired by the crystal clear night skies above the Galloway Forest Park with its ever-changing ribbons of colour and wondrous sky glow to create a luxurious gin with a hint of citrus, well balanced with juniper and with crisp and fresh notes and a number of night blooming floral botanicals.
Flavours
Menthol
Herbaceous
Spiced
Citrus
Floral
Sweet
Nose
Bright, fresh and green. Citrus and sweet floral.
Taste
Smooth and sweet with light juniper, zesty citrus, lavender and a subtle touch of warming spice and savoury menthol.
Finish
A subtle sweet finish, no heavy aftertaste but a warming finish with clean grapefruit notes.
How to enjoy this gin
For a failsafe gin and tonic serve, add one part gin to two or three parts tonic over ice with citrus slice. Or enjoy as part of a classic gin cocktail, like a French 75.
About Dark Art Distillery
Sitting on the edge of the Galloway Forest Park, the distillery takes inspiration from the park itself, which at night becomes one of the darkest places in Europe for star gazing. Established by Andrew Clark Hutchison in the small town of Kirkcudbright, Andrew has long family ties to the area and is the fifth generation of his family to live and work in the town. The distillery sits alongside a number of other businesses who share the site including the Dark Space Planetarium and a number of art studios. Many of the original school features remain, including the original clock tower and chalk boards.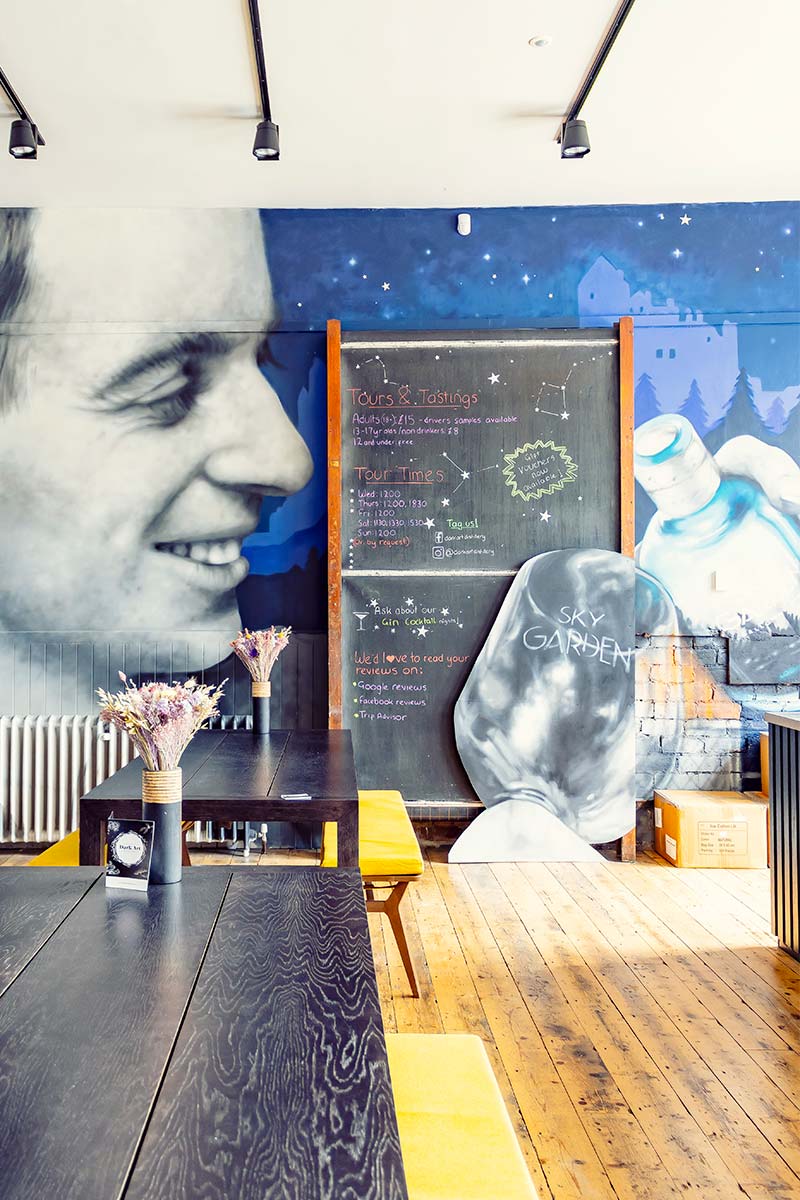 Production
Dark Art Distillery official opened in July 2021 with the launch of its signature Sky Garden Gin. Forming part of the larger site of the former primary School, the Dark Art Distillery houses a custom-built 450 litre Carl still named 'Peggy', after founder Andrew's grandmother who hailed from Kirkcudbright. The distilling team at the distillery is led by Fiona Williamson, a graduate of Heriot-Watt University's Institute of Brewing and Distilling.