Free delivery when you spend £100
Certified Scottish Gin
All our packaging can be recycled
The gin itself is described as a classic London Dry style gin, with a traditional juniper backbone, citrus forward flavour profile and lingering pepper spice backdrop. Alongside juniper, a number of traditional gin botanicals have been used including coriander seed, angelica root, orange and cardamom, together with some more unusual and exotic botanicals, most notably kumquat, which the family source from a local family-run grocer.
Flavours
Citrus
Fruity
Sweet
Spiced
Nose
The juniper and kumquat appear on the nose at first, luring you in with a hint of tangerine before giving way to traces of cinnamon, almond and spicy pink peppercorn.
Taste
The initial citrus sweetness melts into the piney juniper before the warming flavours of cassia, tonka bean and cardamom level things out a little, in preparation for the more earthy notes of angelica root.
Finish
A final pepper spice hit from the pink peppercorn lingers on the finish.
How to enjoy this gin
A slice of orange, tonic and ice.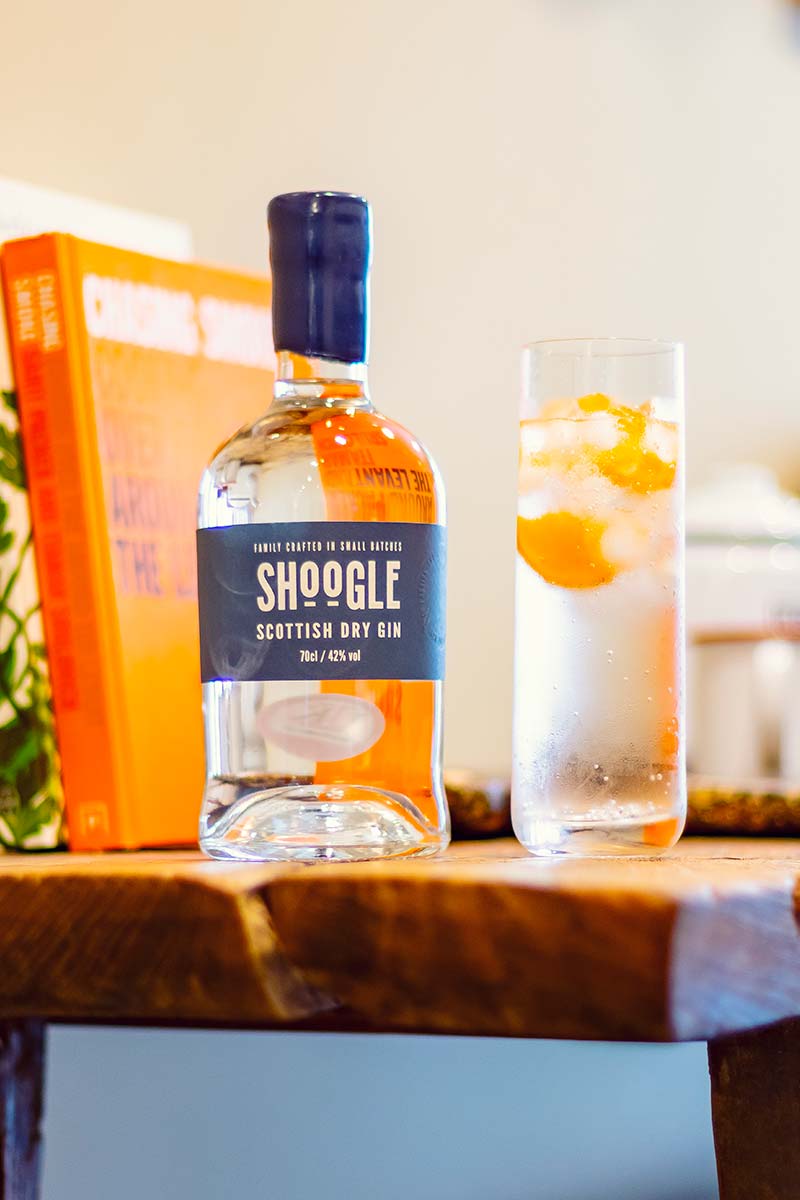 About Shoogle Spirits
Shoogle Spirits was established by husband and wife Chris and Leigh Payne after losing the family patriarch in 2018, Chris's dad Jimmy. While sorting out the late Jimmy's belongings, Chris discovered an old dusty bottle of Charrington's Toby Audit Ale, kept unopened for almost 60 years. After digging around, Chris discovered his great grandfather had worked at Glasgow brewery J & R Tennent where the ale had been made. Along with the family's shared love of gin and spirits and the memento left behind by Jimmy, Chris decided it would be a fitting legacy to his dad if they created a family distillery and started a new chapter in the family's history.
Production
Shoogle Spirits Distillery opened its doors in the second half of 2021. The distillery is based in the tastefully refurbished former Morris Furniture factory in the west-end of Glasgow where all Shoogle Spirits are distilled and bottled. Shoogle Spirits, which now include gin and vodka, as well as some third party products, are all distilled in 'Birnie', a 100 litre pot still. The distillery is also used for product research and development and provides a space for the team to experiment, taste and develop new releases and collaborations.