Free delivery when you spend £100
Certified Scottish Gin
All our packaging can be recycled
This edition is made precisely to the original recipe, as it was written down in Mount Mary, Bombay, in 1947. Here the botanical mix includes cinnamon, which adds a decidedly warming and spicy kick to the spirit. Spicier, sweeter and more intense, it's a decadent trip back to the last days of the Raj. Cardamom, coriander, clove and cinnamon spice lead to a crisp, refreshing and long finish.
Flavours
Spiced
Sweet
Nose
A beautifully complex array of heady Bombay spices make for a nose-warming, aromatic bouquet. Fragrant cardamom and sweet fennel dance on top of the incense-like clove aroma.
Taste
Dusty warmth explodes into sweet spice with a bold, liquorice-esque wallop to follow. Aromatic cardamom leads the palate while anise and fennel strike up the perfect, perfumed partnership underneath.
Finish
A hint of gentle cinnamon lingers on the tongue to round off a sweet, creamy finish.
How to enjoy this gin
A wedge of orange, tonic and ice.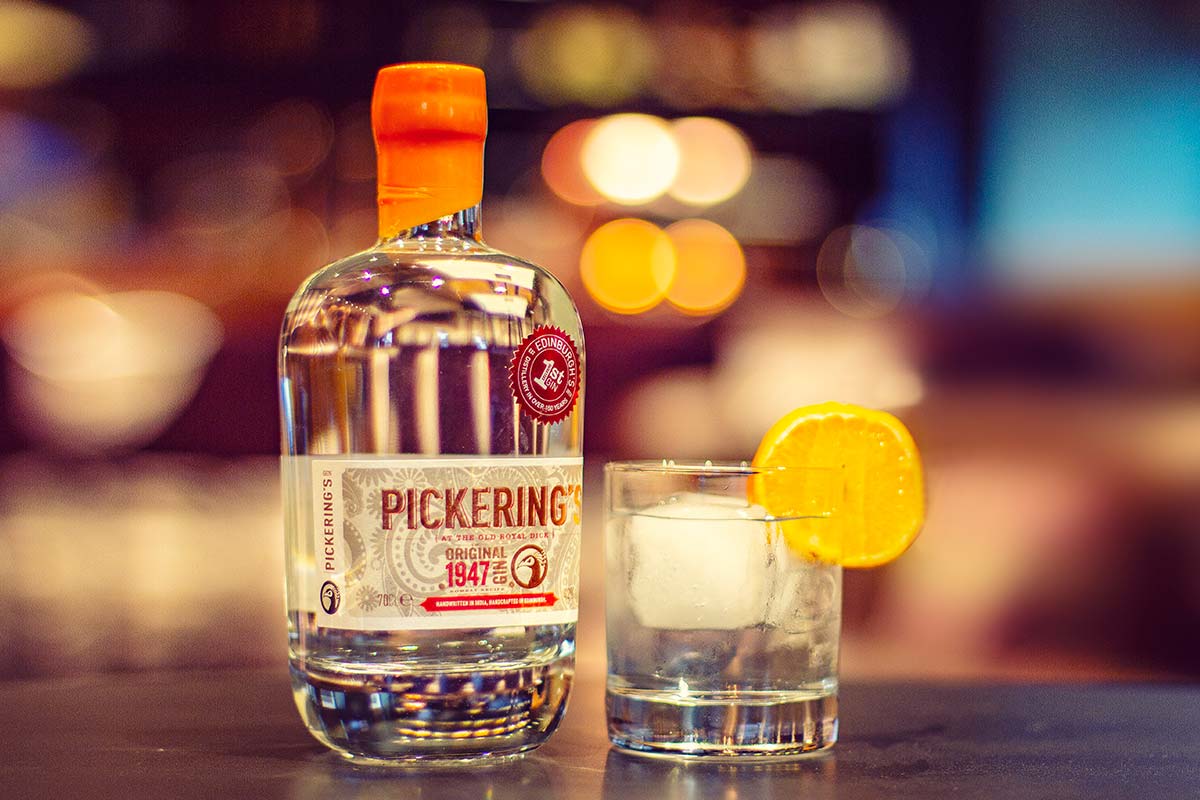 About Pickering's Gin
Established in 2013, Summerhall Distillery, Edinburgh's first exclusive gin distillery in over 150 years, is housed on the site of an old animal hospital and veterinary school known locally as the Dick Vet. It's now an arts venue called Summerhall with a pub and the distillery next door. Pickering's was lovingly created by its founders, Marcus Pickering and Matthew Gammell. Business partners for 12 years. Friends for even longer. Their ethos? If you can't find what you want, make it yourself. Marcus's interest in gin came from his time working at Skibo Castle, perfecting cocktails and leading tours around the local distilleries. Matthew was responsible for transforming the old animal hospital dog kennels into a fully operational distillery, armed with his engineering degree and experience in the property renovation and construction sector.
Production
The Summerhall Distillery, Edinburgh's first gin distillery in the city for over 150 years, is located in Edinburgh's old animal hospital, The Royal (Dick) School of Veterinary Studies or locally know as the 'Dick Vet'. In 2013 it was refurbished and became one of Europe's leading centres for creative arts housing an international art museum as well as hosting theatre, music and literature events in the building. The distillery is discreetly tucked just off the main courtyard and resides in the old dog kennels. Packed with character, it is a fitting home for Pickering's gin and a magical setting for tours and tastings.