Free delivery when you spend £100
Certified Scottish Gin
All our packaging can be recycled
Isle of Harris Gin features a range of botanicals that have been carefully selected to create and capture the spirit of the landscape, the people and the island. Hand dived sugar kelp is used to balance a total of eight other botanicals including juniper, cassia bark, coriander seed, angelica root, bitter orange peel, cubebs, liquorice root and orris root. The result is a balanced flavour profile that delivers notes of juniper and pine with sweet fruits of mango, grapefruit and orange. Green herbaceous notes are also found, which transitions through to vanilla and a warming black pepper spice on the finish with subtle saline notes carried throughout the gin.
Flavours
Fruity
Floral
Spiced
Citrus
Herbaceous
Piney
Coastal
Nose
Defined juniper note with pine needle resin followed by notes of citrus which develops into complex notes of floral, herbaceous and spice.
Taste
Bright and balanced juniper and refreshing pine with sweet fruits of orange, mango and some tart citrus of grapefruit.
Finish
A clean, long finish with juniper that transitions to sweet vanilla and a warming black pepper spice.
How to enjoy this gin
The recommended gin and tonic serve is a generous measure of Harris Gin with a quality tonic and a wedge of red grapefruit and a few dashes of sugar kelp aromatic water. Harris Gin also works beautifully in an ice cold dry Martini with its coastal notes.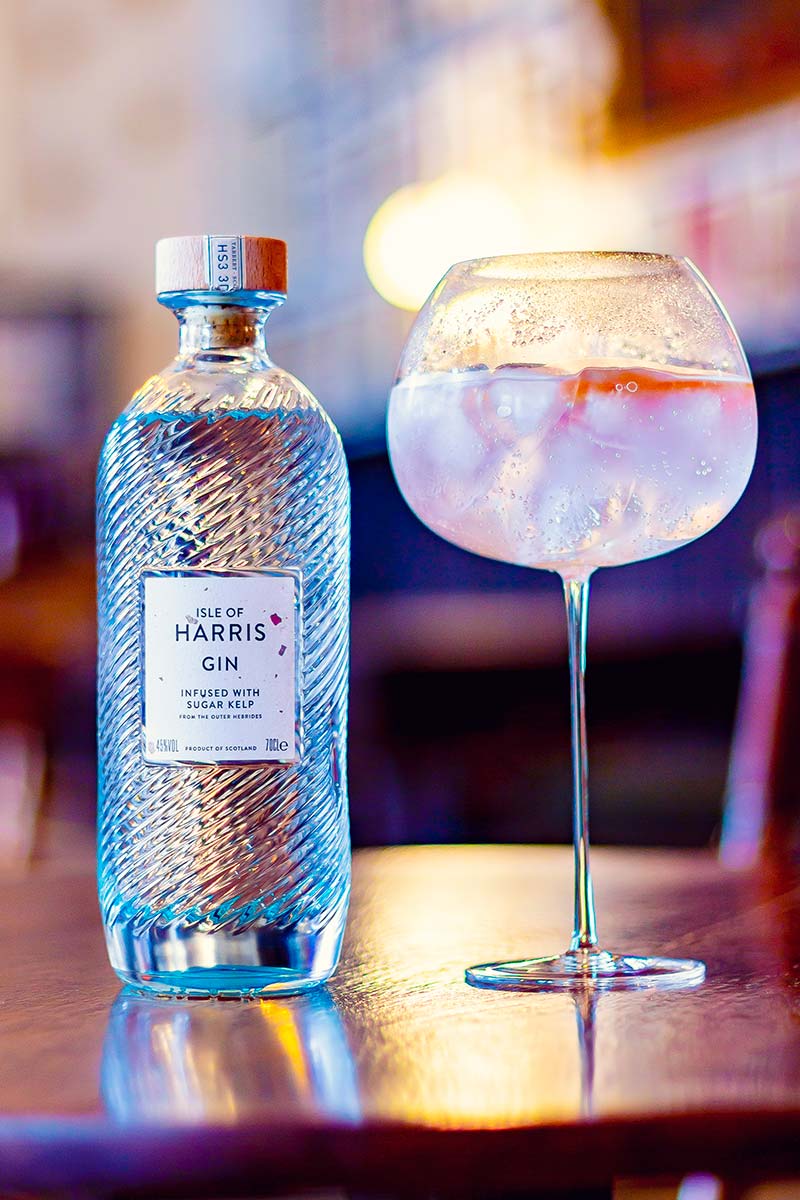 About Isle of Harris Distillers
Established in 2015, The Isle of Harris Distillery is known by many as 'The Social Distillery', an ethos which embraces the generous character of the island and the people who live there. Although very much a working distillery, the doors are open six days a week, to connect with all those who want to learn more about the distillery's story. A peat fire burns at the heart of the building providing a warm Outer Hebridean welcome to all who visit. There is a deep belief that the island's natural assets can be harnessed to address the acute economic problems through ambitious projects like the distillery, helping highlight the special place that is the Isle of Harris and its qualities to the attention of a wider audience.
Production
Located on the harbour front of Tarbert, a few hundred yards from where the ferry docks, means you can't miss the opportunity to spot and visit the Isle of Harris Distillery. The Distillery itself is quite modest in size but full of character and people! For a small, relatively remote island off Scotland's west coast, the Distillery team have done an amazing job of creating a visitor experience that is honest, insightful and true to the island's people and traditions. Tours take place daily, with exception of Sundays when the Distillery is closed. The Distillery also houses a Distillery shop and canteen, where you can experience fresh local food and drink, and even sample craft beers, Isle of Harris G&Ts and Martinis.