Free delivery when you spend £100
Certified Scottish Gin
All our packaging can be recycled
A first for Scottish Gin, Illicit Blacklist Smoked Gin uses peat, which is traditionally used in some whisky production. The smoke from the peat was captured in the still before distilling the macerated botanicals through the smoke. To give a full flavour, peat smoke was then bubbled through the final distillate before activated charcoal was added to bond the flavours together. The gin's base botanicals including juniper, coriander and angelica, were also smoked over the peat for eight hours. Other botanicals used in the distillation include black cardamom, black pepper, allspice, bitter orange and Lapsang Souchong tea to create a unique blend of citrus, juniper, spice and smoke.
Flavours
Spiced
Citrus
Smoked
Nose
Juniper, spice and smoke.
Taste
Juniper leads but there is a unique blend and balance of citrus, spice and smoke to taste.
Finish
A warm, smoked finish.
How to enjoy this gin
The smokey notes really shine in a gin and tonic, garnished with orange peel. This gin also works fantastically well in a number of classic gin cocktails, providing a distinctive smokey taste. Start with a Martinez or Negroni.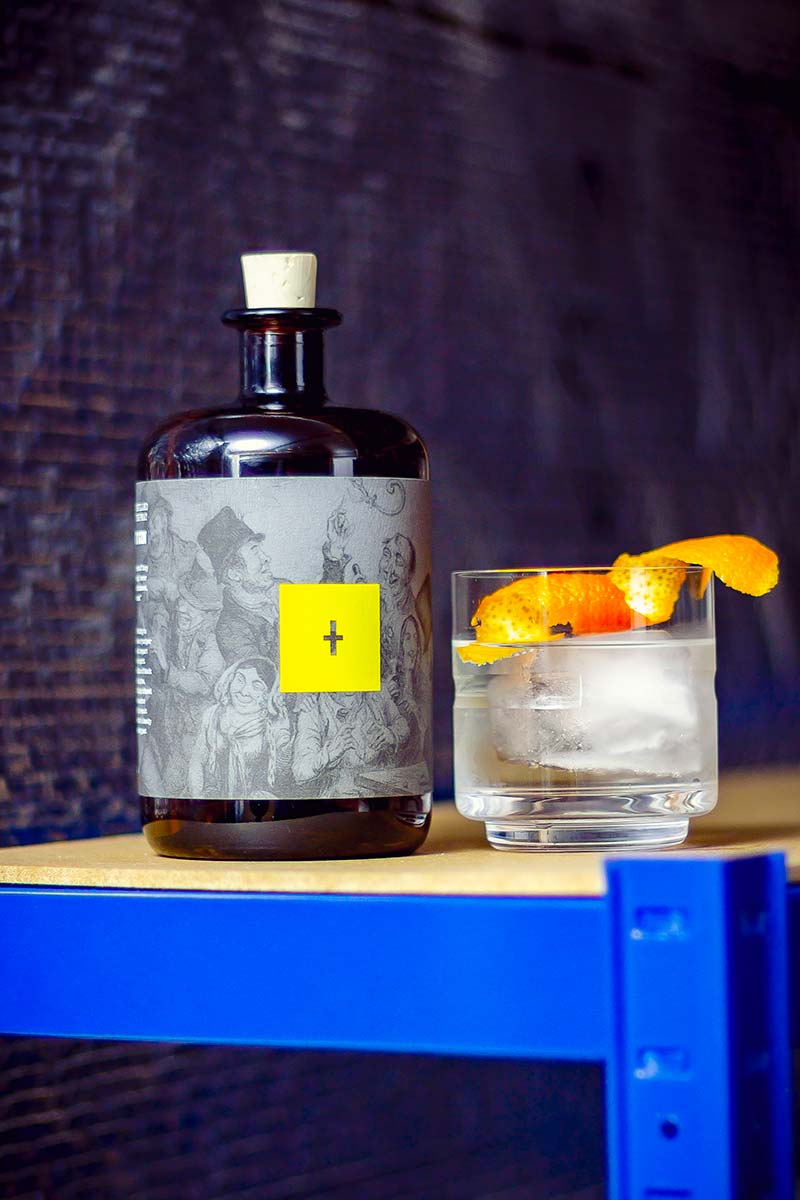 About Illicit Spirits
The Illicit Spirits Distillery, established in 2017 by distiller Darran Edmond, is a true urban craft distillery that uses traditional distillation methods to create modern spirits. The name Illicit Spirits is a nod to both the era of illicit distilleries and also the Illicit Spirits location – hidden in plain sight just like the speakeasies of old, tucked away in a repurposed railway arch. Using a traditional direct-fired copper pot still, and Darran's background in distilling, meant he had a good idea of what botanicals his ideal gin recipe would include. The Illicit Spirits Distillery will be a testbed for a number of exciting craft spirit projects and collaborations.
Production
Illicit Spirits Distillery is hidden away off a courtyard surrounded by railway arches and businesses of various guises. Once used for illegal raves in the Gorbals area of Glasgow, the site is now home to a legal distillery. Founded by Darran Edmond, the distillery is a true urban distillery producing gins and spirits inspired by both Glasgow and the history of distilling.