Free delivery when you spend £100
Certified Scottish Gin
All our packaging can be recycled
The term 'Igneous' refers to rock formed through lava's cooling and solidification. The land where the distillery sits is nestled deep within the crater of an extinct volcano and has helped inspire the brand. With such a strong personal connection to the landscape, Katie and Miles wanted their bottle to reflect this. Katie started learning about ceramics, and with a lot of research, practice, and some mistakes along the way, she perfected the production process for the Igneous West Highland Dry Gin ceramic bottle, meaning each handmade ceramic bottle is a one-off with individual quirks. Igneous West Highland Dry Gin features a range of classic gin botanicals, including juniper and lemon peel combined with heather blossoms and a touch of fruit from rowan berries. 
Flavours
Piney
Citrus
Earthy
Floral
Sweet
Nose
Piney, earthy notes with bright citrus coming through.
Taste
Piney juniper to taste initially followed by earthy green notes balanced with citrus, which helps emphasise the brightness from the juniper.
Finish
Light floral notes come through from the heather and some sweet and tart notes from the rowan berries.
How to enjoy this gin
A twist of lemon peel, tonic and ice.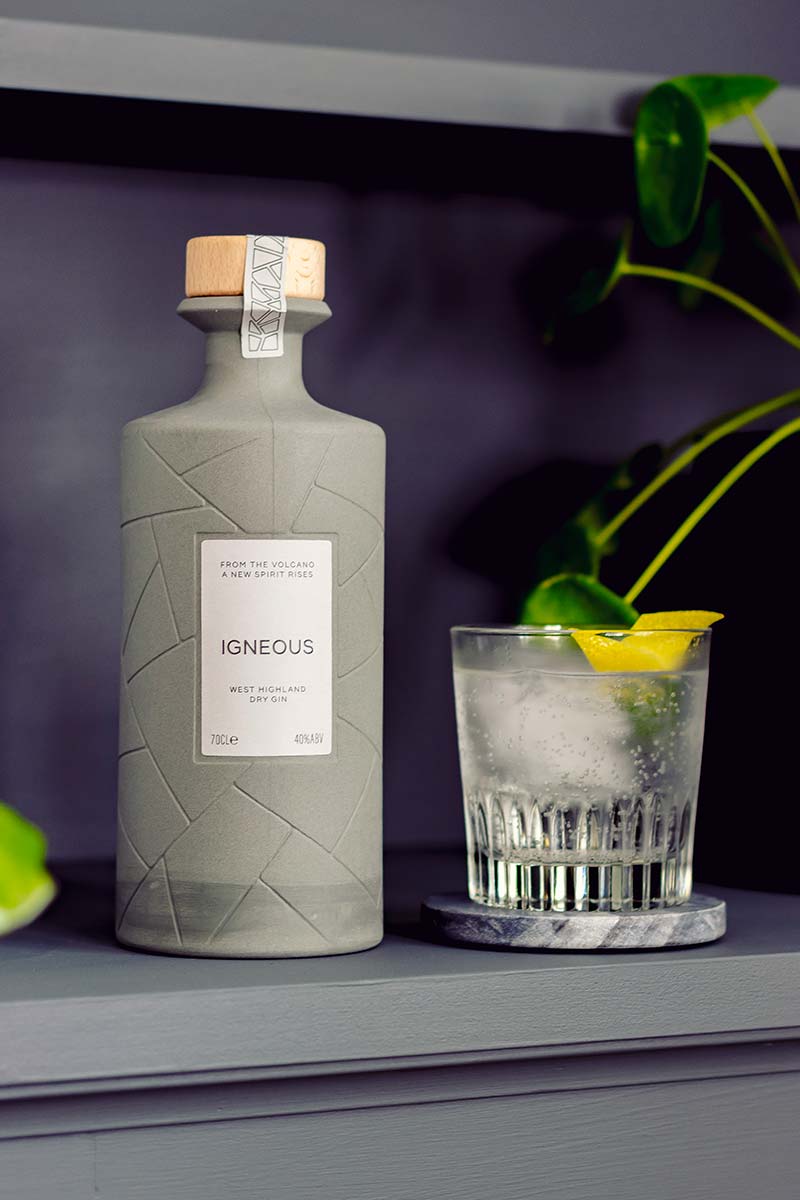 About Igneous
Igneous was established in 2022 by husband and wife Miles and Katie Pote. The Igneous Distillery opened its doors in August 2023 with the official launch of its signature Igneous West Highland Dry Gin. The distillery is located in the remote Scottish village of Achnaha, on the Ardnamurchan peninsula on the West coast of Scotland, a place that holds special meaning to Miles. Upon their retirement, Miles's parents chose Achnaha as the perfect place to enjoy retired life, spending many evenings admiring the area's natural beauty. When the time came, and Miles inherited his parent's home and his dad's workshop, Miles and Katie knew they wanted to keep a connection with the area. With a love of gin and the area, the couple saw a unique opportunity to establish a distillery and brand that took its inspiration from the land on which the distillery would sit.
Production
The Igneous Distillery sits in the remains of an inactive volcano on the Ardnamurchan peninsula. The building was formerly co-founder Miles's dad's workshop, which underwent a complete refurbishment to create the Igneous Distillery. All distillation and production takes place on-site at the distillery, which houses the main computer controlled 250 litre Genio still.