Free delivery when you spend £100
Certified Scottish Gin
All our packaging can be recycled
Galloway is the home of Crafty Distillery and a special corner of Scotland. Surrounded by forests and unspoilt coastlines, it's the perfect larder for their Hills & Harbour ingredients. Noble fir needles and bladderwrack seaweed are distilled with 9 other botanicals, creating a vibrant, balanced and versatile gin. Their second edition new-look bottle was launched in October 2021; 30% lighter and featuring a world's first spirit measure stopper, made from 100% natural cork and wood.
Flavours
Piney
Coastal
Fruity
Herbaceous
Spiced
Citrus
Nose
Piney juniper, verdant herbaceous punch, tropical fruit, grapefruit citrus and a subtle scent of the shore.
Taste
Smooth delivery, vibrant juniper is balanced with hints of forest fir, tropical fruit, citrus spice and tangy sherbet.
Finish
Vibrant, complex and lingering, with subtle spice and umami notes.
How to enjoy this gin
This is a versatile gin so can be enjoyed as part of a classic gin and tonic or in many gin based cocktails. Try with a quality tonic and a slice of mango over ice.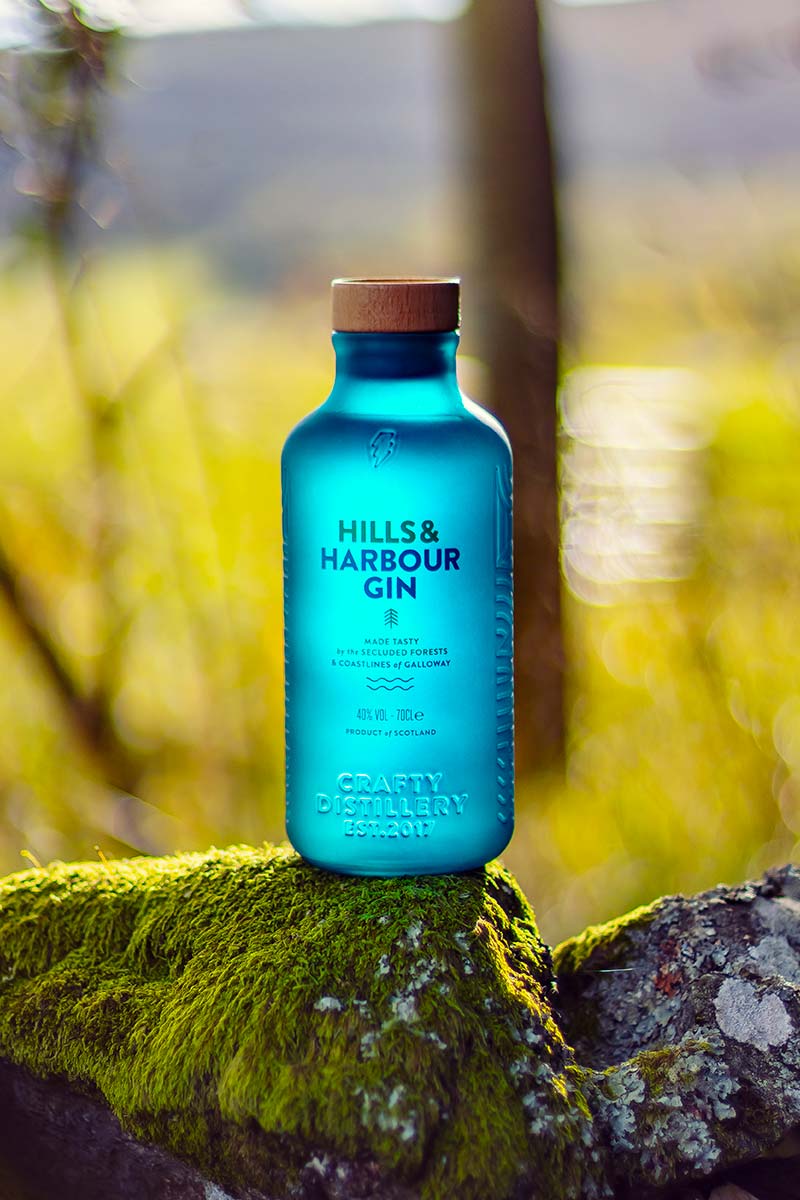 About Crafty Distillery
The Crafty Distillery is a modern grain to glass distillery; producing gallons of tasty stuff, delivering panoramic views over the Galloway Hills and 'Keeping Everyone in Good Spirits'. The team are trained and committed to fulfilling the long held mantra that if a job's worth doing, it's worth doing properly. Using new technology, their own grain spirit and locally sourced ingredients, they create tasty, wallet-pleasing spirits for everyone who likes a tipple. Combining a commercial and working distillery, visitors can tour the production facilities to learn more about the Crafty Distillery's unique approach to distillation, sample their tasty Scottish spirits and admire the scenery all from the comfort of the modern purpose built distillery.
Production
Perched on a hillside just outside the market town of Newton Stewart and with enviable views over the Galloway Hills, you'll find the modern, purpose-built structure and welcoming environment that is Crafty Distillery. Crafty Distillery is one of only a select hand full of gin makers in Scotland who use a grain to glass approach in their distilling, making their own base spirit, which they create from scratch at their distillery.