Free delivery when you spend £100
Certified Scottish Gin
All our packaging can be recycled
Smoking of ingredients, often done in bothy smokehouses, has long been part of Scottish culture so Gin Bothy took inspiration from this long-held tradition and worked with Alex Spink and Sons, who have been making smokies in Arbroath since 1977, to create this Bothy Smoked Gin. Only 250 bottles of the first edition have been produced, made in a protected designation of origin area, using a traditional Smokie 'bothy', which involved applying traditional smoking techniques to juniper, orange peel, coriander and lemon, which were then distilled to create this distinctive Scottish Gin.
Flavours
Spiced
Smoked
Citrus
Earthy
Nose
Earthy juniper and bright citrus.
Taste
Juniper upfront with bold citrus and hints of earthy pepper and subtle smokiness.
Finish
Crisp and dry with a warming spice on the finish.
How to enjoy this gin
For a traditional gin and tonic serve, add a splash of tonic and orange peel twist. This smoked gin also works beautifully in a Negroni, with its subtle smokey notes cutting through the bitter sweet notes.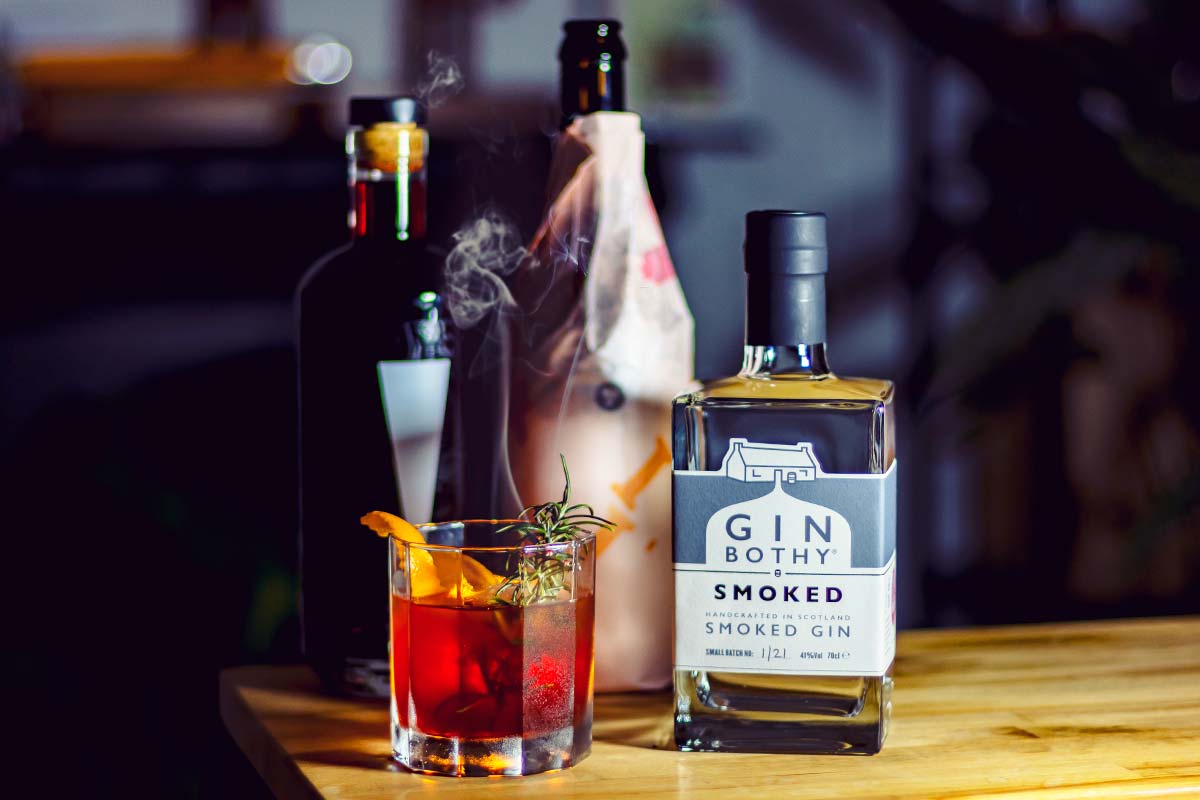 About Gin Bothy
It's a hillwalking tradition to seek shelter and warmth after a long day on the hills. For some this is a cosy seat in the nearest pub, for others it's a night in a bothy with a hip flask. Inspired by the history and heritage of Scottish bothy life, Gin Bothy was born and they embrace the old fashioned approach - homegrown and simple. What started off as a jam making business soon evolved into a gin brand, putting the excess fruit and leftovers to good use. Thanks to the stewardship of Kim Cameron, founder of Gin Bothy, the business today still follows the same founding principles that Gin Bothy was built upon - producing honest, local drinks that capture the landscape and reconnect with the past.
Production
Gin Bothy Gins are handmade using the cold compound or bathtub method and the base spirit is produced just over a mile away at a local distillery. They then infuse their gins with Scottish botanicals, traditional botanicals and local seasonal fruits in small batches, working through the process by hand at each step. The Gin Bothy's production and visitor experience are split over two sites. The current production facilitates are located on the outskirts of Kirriemuir and closed to the public. The Gin Bothy Experience is housed in a former stables block in the village of Glamis, home to the world famous Glamis Castle.