Free delivery when you spend £100
Certified Scottish Gin
All our packaging can be recycled
Eight Lands Organic Speyside Gin uses organic base spirit and eleven botanicals, including sorrel and cowberries grown on the estate and fresh Speyside spring water, which helps to give this organic London Dry Gin its unique but classic flavour.
Flavours
Spiced
Citrus
Fruity
Nose
Intense juniper on the nose, backed up by fresh pine and citrus.
Taste
To taste, it's sweet juniper balanced with tart red berry and citrus.
Finish
Hints of black tea and warm spice on the finish.
How to enjoy this gin
Serve with tonic and garnish with summer berries or a citrus wedge. This classic gin flavour profile lends itself well to a number of cocktails, including the Vesper, Negroni and French 75.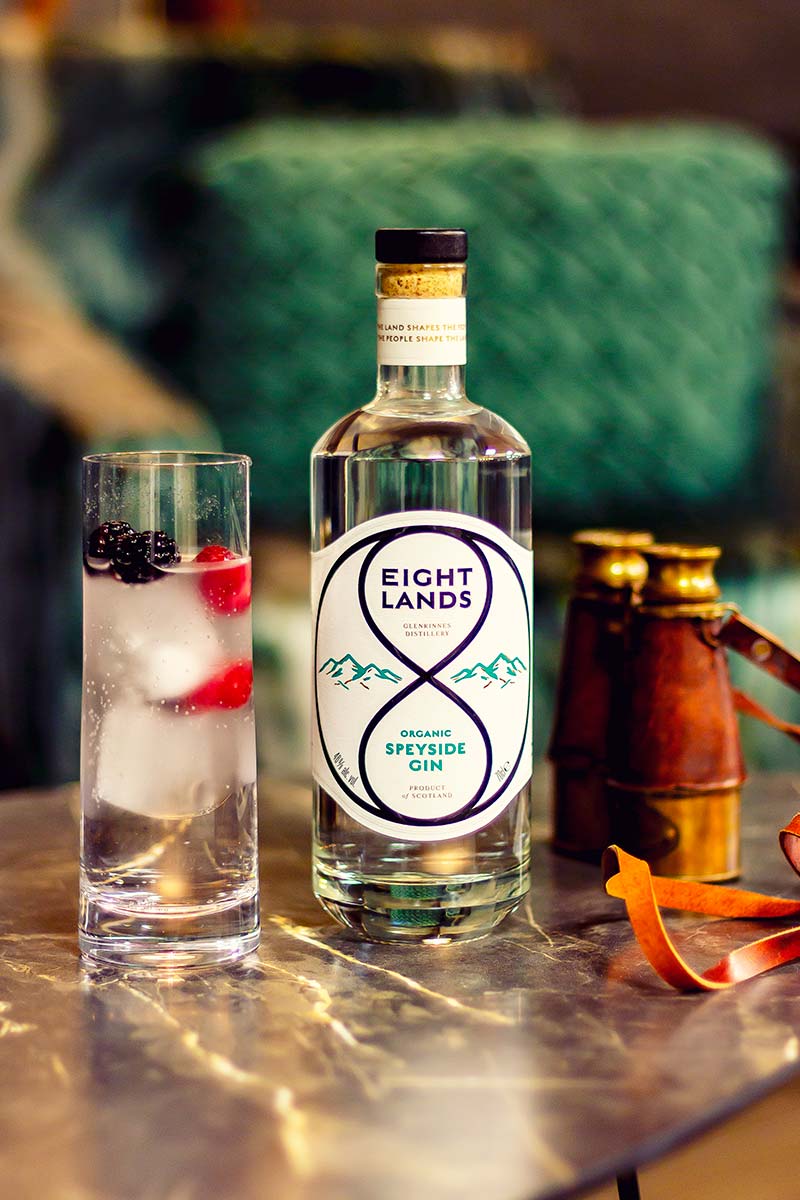 About Eight Lands
The Glenrinnes Distillery sits in the shadow of the mighty Ben Rinnes, the mountain which inspired the name for the Eight Lands spirits. On a clear day, it's said you can see eight different regions of Scotland. Located in the heart of whisky country, between the Highlands and the River Spey, the distillery is the newest addition to the Glenrinnes Farm's family-run estate, which is recognised as an award-winning organic producer of premium food. The Glenrinnes Distillery produces a variety of organic Scottish spirits including Eight Lands Speyside Gin and Eight Lands Speyside Vodka. All production including distillation, bottling and labelling takes place on-site at the distillery under careful supervision to produce authentic, excellent spirits using a number of locally sourced sustainable ingredients including the fresh water that flows freely past the distillery door at the foot of Ben Rinnes.
Production
The distillery has been carefully designed to fit into the agricultural setting of the landscape and upon first glance appears to be like any other agricultural building in the area. It's only upon closer inspection you'll see the name Glenrinnes Distillery adorned across the building. Completed in 2019, the Glenrinnes Distillery sits at the foot of Ben Rinnes, a local mountain and landmark in the Speyside region of Scotland. The distillery is home to a custom built still from local Coppersmiths Speyside Copper Works, which has been designed to give greater flexibility and control over the finished spirits produced. On the second floor you'll discover the tasting room, which provides a birds eye view over the distillery and local landscape.