Free delivery when you spend £100
Certified Scottish Gin
All our packaging can be recycled
eeNoo takes its inspiration from the story of Eenoolooapik the Inuit, locally known as Eenoo, who arrived in Aberdeen aboard the whaling ship Neptune in 1839. Having joined the ship's crew at Baffin Island in Canada, Eenoo had a long held desire to visit Scotland. He spent time learning Western Ways while sharing his crafts including his Qajaq (canoe) skills on the River Dee and his knowledge of herbs, spices and botanicals. eeNoo Gin is light and refreshing with an undertone of fruit and honey, balanced with juniper and citrus.
Flavours
Sweet
Citrus
Spiced
Fruity
Nose
Sweet summer berries, think raspberry ice cream. Very little spirit hit. It is light, refreshing and enticing.
Taste
Smooth and refreshing. The raspberries are evident, as is the honey. It gives a real sweet edge to the gin but is balanced perfectly with the juniper and orange peel which come through quite quickly. It is a superb sipping gin. Clean, fresh and not spirituous at all. Add some tonic and fresh raspberries for a real summer explosion.
Finish
Short and sweet. The flavours melt away leaving a hint of juniper and pepper.
How to enjoy this gin
Fresh raspberries, tonic and ice.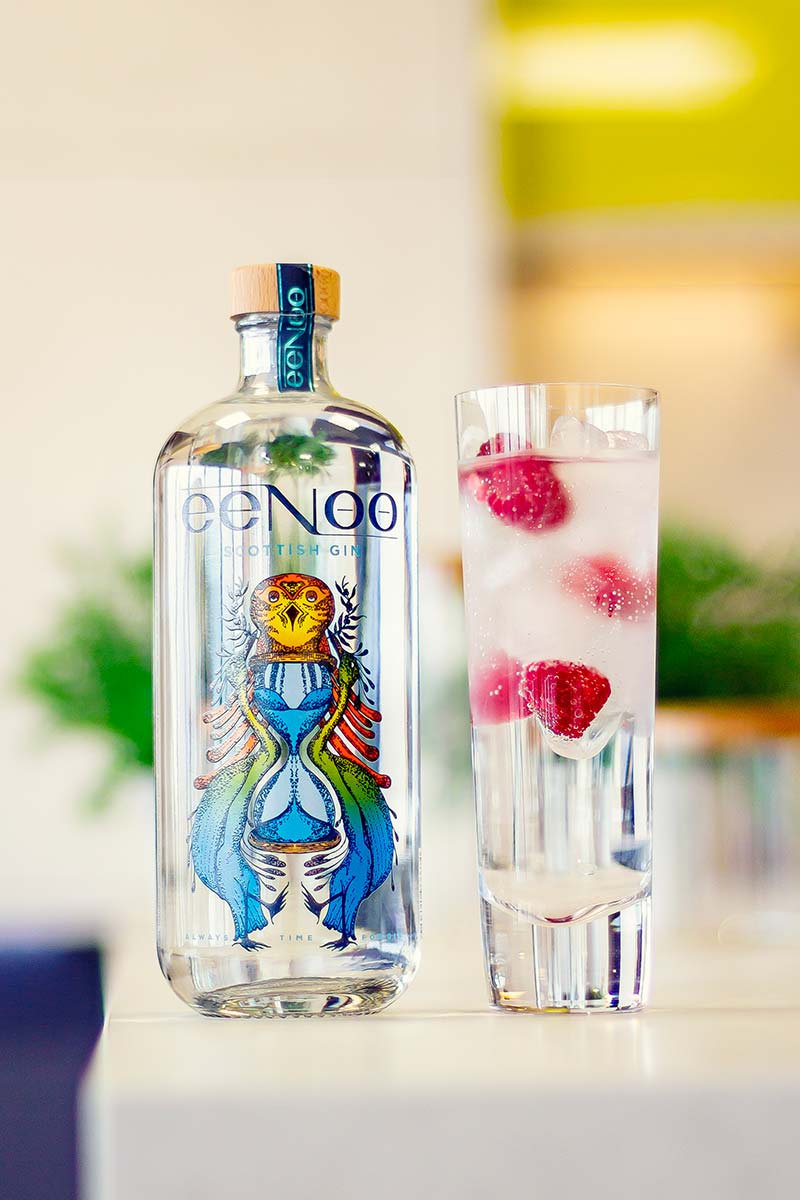 About Lost Loch Spirits
You'll find the Lost Loch Spirits Distillery nestled between forest and farmland on the edge of the Cairngorm National Park. The Distillery was established in 2017 by Peter Dignan and Richard Pierce. From the off-set Peter and Richard wanted to create original spirits that had provenance, character and links to local folklore and historical figures from the local Royal Deeside area. Lost Loch Spirits was the first in Scotland to produce a Scottish Absinth – Murmichan – with the help of Dylan Carey, an American studying at Herriot-Watt University.
Production
Located on Royal Deeside in Aberdeenshire, Lost Loch Spirits Distillery and Spirits School overlooks a vast expanse of green hills, forests, agricultural land and of course the lost loch of Loch Auchlossan. Sitting on what would have once been the Eastern Shore of the loch, the outline of which can bee seen after a heavy downpour, the distillery houses a variety of traditional copper stills and a modern iStill. The local landscape, wild Scottish botanicals and local folklore have influenced the products made by the team at the distillery. A percentage of the power and heat utilised at the distillery comes from renewable sources as the site is fitted with a wind turbine, a solar panel array and a biomass boiler.