Free delivery when you spend £100
Certified Scottish Gin
All our packaging can be recycled
The first flavoured gin from Caorunn and created to mark ten years since the Caorunn brand was established. Using the signature recipe for Caorunn with the addition of Scottish raspberries creates a gin that is unmistakably Caorunn whilst still delivering a bright and clean burst of fruit. With raspberries sourced from Perthshire and distilled using the unique Copper Berry Chamber, the gin carefully blends the traditional with the contemporary to create a gin that has lingering notes of vanilla and raspberries.
Flavours
Sweet
Fruity
Nose
A blast of raspberry fruitiness with lingering vanilla softness.
Taste
Distinctively fruity, raspberry and the tartness of rowan to the fore.
Finish
Pleasing mouthfeel with bright, clean, fresh flavours lingering in the finish.
How to enjoy this gin
For a classic gin and tonic serve, add one part gin to two parts chilled tonic and garnish with raspberries and red apple slices. Or enjoy this fruity expression in a Clover Club cocktail.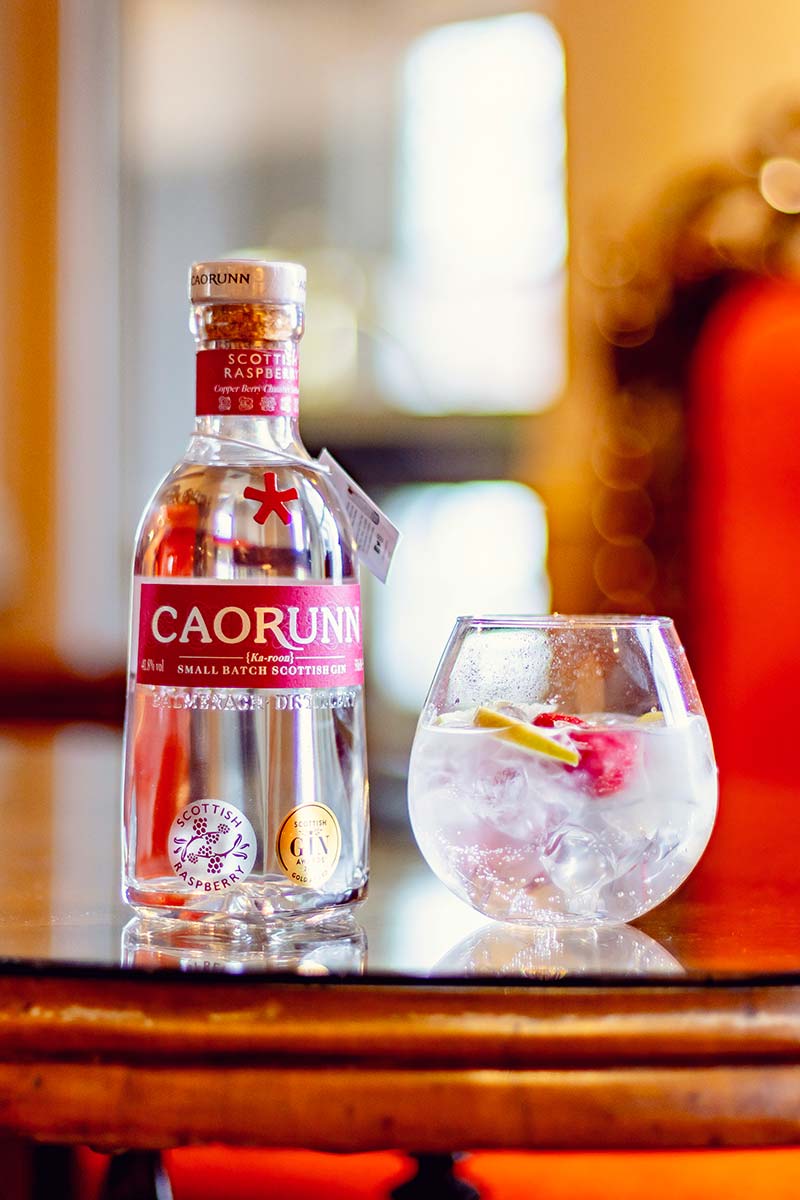 About Caorunn
Nestled deep in the stunning landscapes of the Scottish Highlands, you'll discover the home of Caorunn and the Balmenach Distillery. Situated on the banks of the River Spey, the distillery stands beneath the nearby hill of Tom Lethendry, where the Jacobites were defeated in the Battle of Cromdale in 1690. In 1897, the distillery was purchased by Glenlivet and was served by its own railway branch off the Strathspey Railway until 1969. The distillery closed in 1941 and re-opened in 1947, following expansion of its facilities.
Production
Established in 1824 by James MacGregor, whose family were farmers and illicit distillers, the Balmenach Distillery resides on the banks of the River Spey and is home to Caorunn Gin and the Caorunn Gin Distillery where seasoned distiller Simon Buley has been making Caorunn Gin for over a decade. Built in the 1920's, the unique copper berry chamber is legacy to a time when all gin was produced using this slow, careful process. The balanced mix of botanicals is spread across the four perforated trays of the copper berry chamber. The vapourised spirit slowly rises through the chamber, allowing the vapours to be saturated with sumptuous subtle fresh aromas and flavours.