Free delivery when you spend £100
Certified Scottish Gin
All our packaging can be recycled
Cairngorm Gin is distilled using juniper, cloudberries, elderflower and Caledonian pine, partnered with coriander seed, orris root, sweet orange peel, angelica and kaffir lime. These are distilled along with fresh water from the River Spey, which Jack collects by hand. The gin is described as a wonderfully refreshing aromatic gin. This balanced infusion of botanicals and Highland Mountain water results in a floral, fruity gin with subtle earthy tones.
Flavours
Floral
Fruity
Earthy
Nutty
Citrus
Piney
Spiced
Nose
Fresh, clean and floral with juniper and pine at the fore followed by creamy oats and peach.
Taste
Smooth delivery; vibrant juniper is balanced with hints of forest fir, tropical fruit, citrus spice and tangy sherbet.
Finish
A slight savoury, nutty and lightly spiced finish.
How to enjoy this gin
This gin can be enjoyed neat over ice or paired with premium tonic, a slice of green apple and garnished with raspberries and blackberries to enhance the unique cloudberry flavours.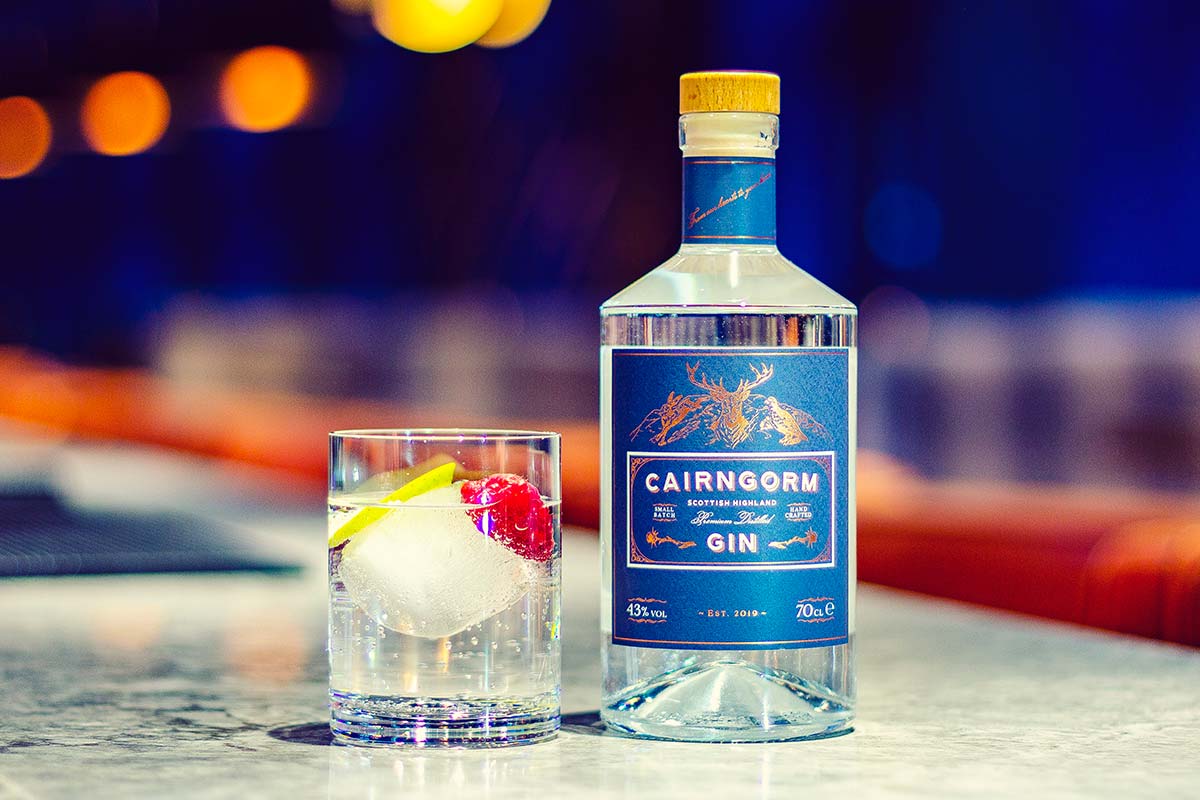 About Cairngorm Gin Company
Owner and distiller Jack Smith was born and raised in the valley of the River Spey, in the heart of the Scottish Highlands, and his family has called the Cairngorms region of the Highlands home for decades. Jack and his family share a love of the great outdoors along with the native flora and fauna that surrounds their home. Jack is a chef to trade and he's trained in some of the best restaurants in the world. Being creative with the very best ingredients, together with his passion for the outdoors, inspired Jack to establish a Scottish Gin distillery, business and brand around his love of the local area.
Production
Established in 2019 by Jack Smith, Cairngorm Gin Company is nestled in a valley beneath the wild and breathtaking Cairngorms National Park in the Highlands of Scotland. One of the smallest distilleries in Scotland, Cairngorm Gin Company Distillery can be found on the same plot as distiller Jack Smith's family home in the Highland town of Carrbridge. All distillation, bottling and labelling is undertaken by Jack and his family at the distillery. Jack originally used a bespoke 50 litre copper pot still named Ginger after Jack's late Grandfather, before upscaling to an iStill in 2022.