Free delivery when you spend £100
Certified Scottish Gin
All our packaging can be recycled
Using their signature Ben Lomond Gin as the base, this delicately balanced Raspberry & Elderflower Gin boasts natural berry essences, offering a sweet and herby floral flavour, backed by the unmistakeable juniper flavour profile. Crafted to create the sharpness of Scottish soft fruit and delicate notes of foraged flowers, this full strength flavoured gin is made to be savoured on warm summer days or on warming winter nights.
Flavours
Fruity
Citrus
Sweet
Spiced
Floral
Nose
Vibrant and fresh with summer fruits, zesty lemon peel and luscious elderflower.
Taste
Spicy coriander and peppercorn mellows to reveal tart summer berries, floral rose and zesty citrus orange.
Finish
Juicy berries and lingering sweet spices to finish.
How to enjoy this gin
Simply enjoy with your favoured tonic water with summer berries garnish. Create a simple gin sour cocktail by adding sugar syrup and freshly squeezed citrus fruit, like lemon and orange, to the gin and shaking over ice to create a Raspberry & Elderflower Gin Sour.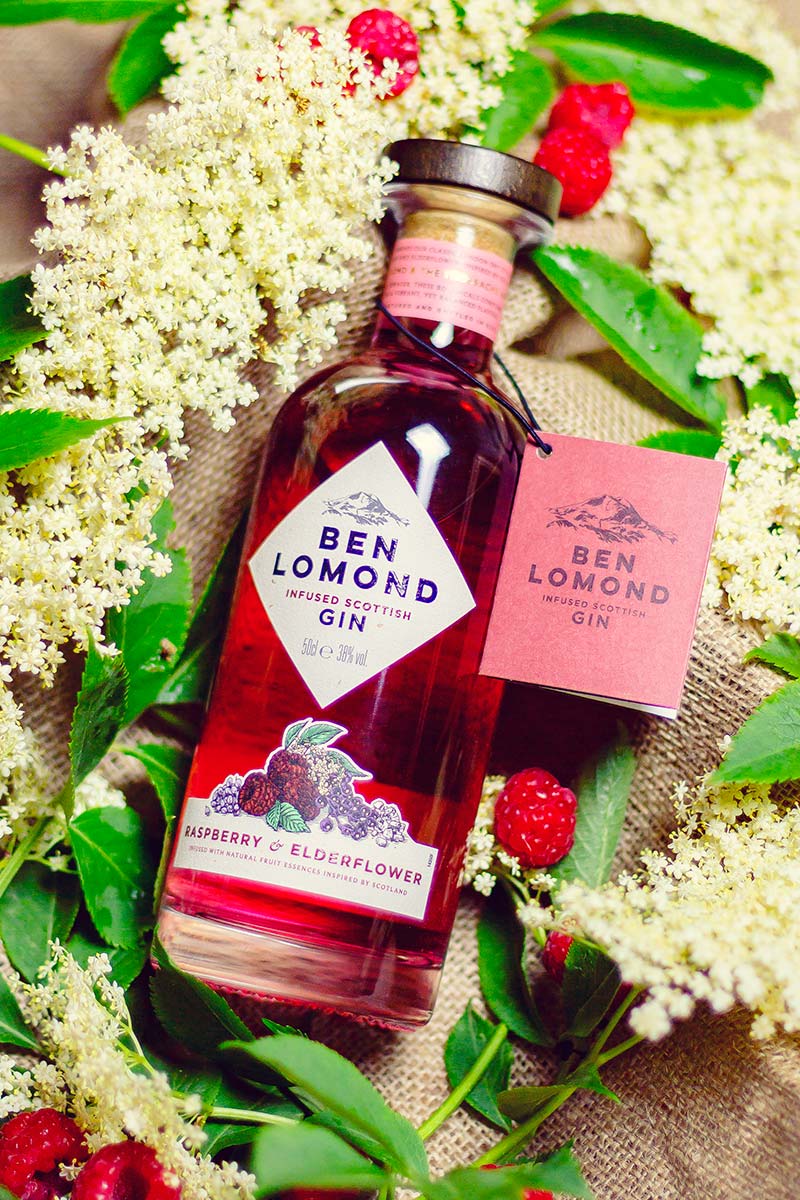 About Ben Lomond Gin
Ben Lomond Gin is part of the Loch Lomond Group; an independent distiller and blender of some of the finest and rarest whiskies in the world. The group currently operates the Glen Scotia distillery in the Argyllshire port of Campbeltown, Loch Lomond distillery at Alexandria in Dunbartonshire and the Glen Catrine bonded warehouse and bottling facility in Ayrshire. With a rich and premium portfolio of spirits, it made sense for the group to create their own gin that was based on their ethos of providing premium spirits that capture the imagination and capture the spirit of Scotland.
Production
Loch Lomond Group partnered with Glasgow Distillery Company for production of their gins while they plan and build their own distillery. Ben Lomond is very much inspired by the majesty and beauty of Ben Lomond and the extensive natural flora within Loch Lomond and The Trossachs. For their fruit infused Scottish Gins, the team worked with a local forager to draw inspiration from the wild botanicals, vibrant berries and endless flora that can be found in the Loch Lomond and Trossachs regions, where the brand is based.