Free delivery when you spend £100
Certified Scottish Gin
All our packaging can be recycled
Nàdar Gin is the world's first carbon neutral, climate positive gin with a carbon footprint of -1.54 kg CO2e per 700ml bottle. Five years of research have went into creating the limited edition, experimental batch gin by head distiller Kirsty Black and her PhD studentship between Abertay University and The James Hutton Institute. The unique gin is made using a spirit distilled from peas, which need no synthetic nitrogen fertiliser to grow, unlike traditional crops used for creating a base alcohol spirit. The benefits of the humble pea are many including improved soil quality resulting in better growth and more efficient crops. Botanicals used in the distillation include lemongrass and citrus leaf, which deliver a fresh, fruity flavour profile and silky finish.
Flavours
Citrus
Fruity
Nose
Fresh, citrus, fruity aroma.
Taste
Smooth silky and refreshing with citrus and fruit notes.
Finish
A long, dry finish.
How to enjoy this gin
Enjoy this gin with a garnish of fresh ginger and premium light tonic water. Can also be enjoyed in a number of modern gin cocktails.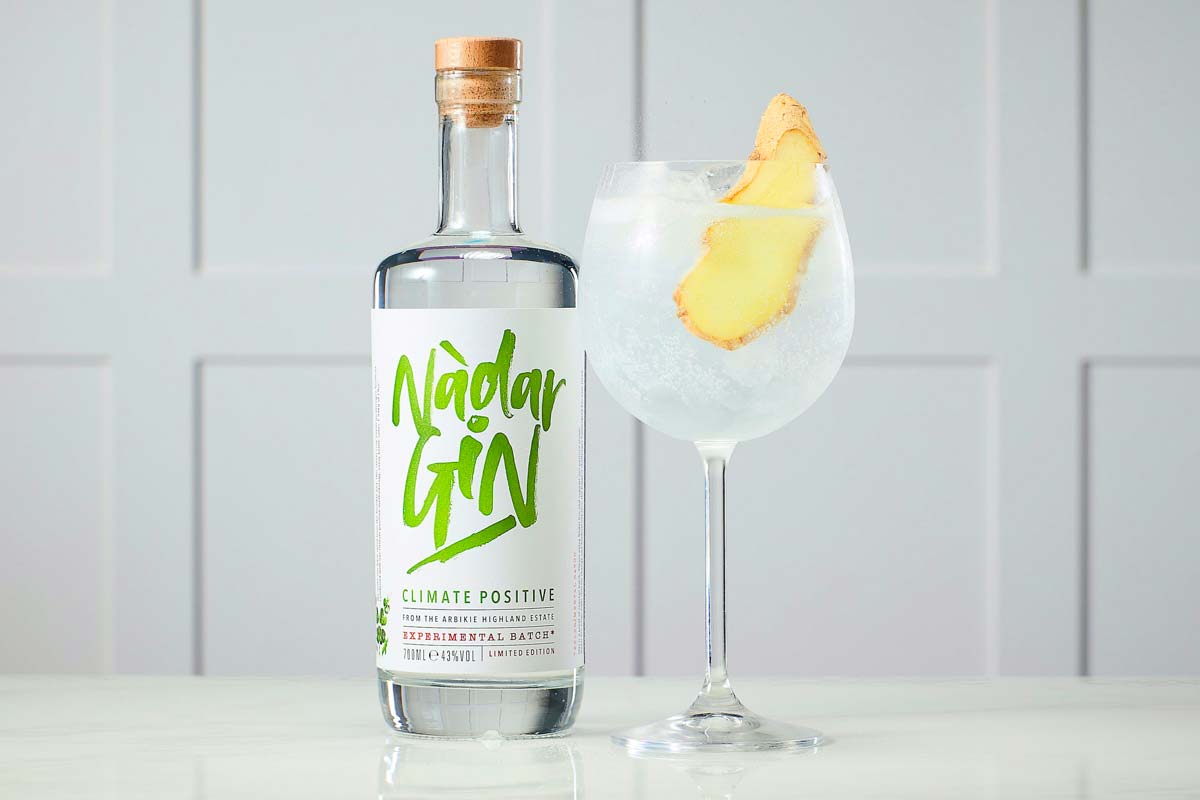 About Arbikie Highland Estate
Arbikie Distillery draws from four centuries of farming experience within the Stirling Family. Developing from a dairy farm, to crops and then innovating to become one of the world's few field-to-bottle distilleries. Perched by the scenic views of Lunan Bay, all ingredients for Arbikie spirits are planted, sown, grown and harvested in the surrounding 2,000 acres that make up the estate. The experienced distilling team are there to ensure that the history, tradition and provenance of Scottish distilling is built into the DNA of each Arbikie spirit.
Production
Transformed from the remains of an old cattle barn, Arbikie is the first single-estate distillery to distil all spirits in the same copper pot stills, with the vodka and gin spirit continuing their journey to a 40-plate distillation column. This distillation process means all Arbikie spirits reflect the traditional Scotch whisky method. Each spirit is distilled differently, with the base spirit for Arbikie gins being triple-distilled. Arbikie spirits are bottled, labelled and sealed on the estate.