Free delivery when you spend £100
Certified Scottish Gin
All our packaging can be recycled
Kirsty's Gin is distilled using the carefully selected local botanicals chosen by their long-standing distiller Kirsty Black. The kelp, carline thistle and blaeberry embody the elements of ocean, rock and land that surround the east coast and Angus farmlands. As fourth generation Scottish farmers, the team at the Arbikie Highland Estate perfectly nurture the crops that are used to distil their gin. They grow, distil and bottle on their single estate in a true farm to bottle operation.
Flavours
Piney
Spiced
Coastal
Floral
Nose
Fresh, crisp, black pepper with seaside character.
Taste
Smooth, creamy and floral with delicate black pepper notes.
Finish
A dry spice finish.
How to enjoy this gin
For the traditional gin and tonic serve, add a handful of blueberries, a squeeze of lemon juice, tonic and ice. For a modern gin cocktail, try the Arbikie Pomarosso, with a generous measure of Kirsty's Gin, a dash lemon juice, rosé vermouth and sugar syrup, then add a couple of tablespoons of pomegranate juice and top up with soda.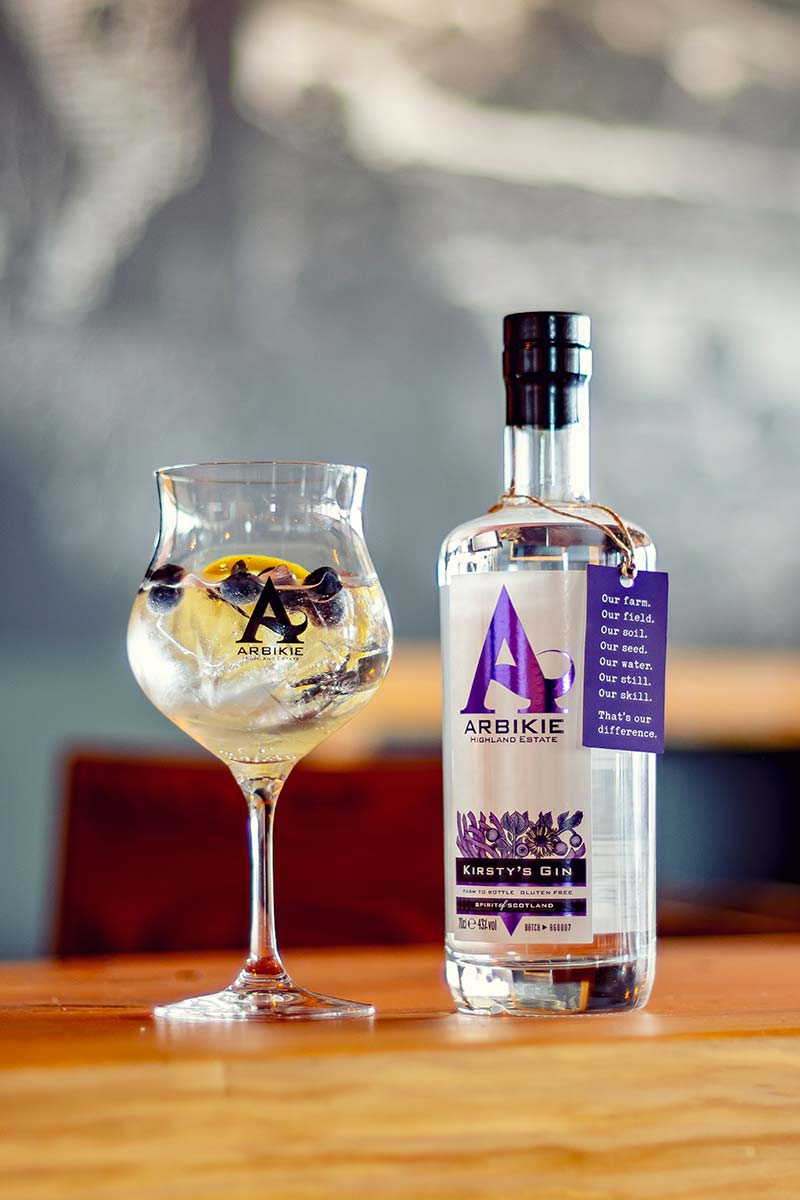 About Arbikie Highland Estate
Arbikie Distillery draws from four centuries of farming experience within the Stirling Family. Developing from a dairy farm, to crops and then innovating to become one of the world's few field-to-bottle distilleries. Perched by the scenic views of Lunan Bay, all ingredients for Arbikie spirits are planted, sown, grown and harvested in the surrounding 2,000 acres that make up the estate. The experienced distilling team are there to ensure that the history, tradition and provenance of Scottish distilling is built into the DNA of each Arbikie spirit.
Production
Transformed from the remains of an old cattle barn, Arbikie is the first single-estate distillery to distil all spirits in the same copper pot stills, with the vodka and gin spirit continuing their journey to a 40-plate distillation column. This distillation process means all Arbikie spirits reflect the traditional Scotch whisky method. Each spirit is distilled differently, with the base spirit for Arbikie gins being triple-distilled. Arbikie spirits are bottled, labelled and sealed on the estate.