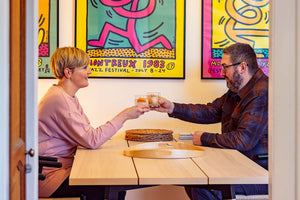 How it started
Since discovering gin for the first time in a classic gin and tonic in 2004 to the present day, we've been on a long journey of discovery into the world of Scottish Gin. In 2013, whilst on holiday in New York City, we were delighted to discover that nearly every bar or restaurant we visited had at least one Scottish Gin on the menu. This discovery planted the seed that inspired us to establish The Gin Cooperative in 2017; a business that would educate and inspire consumers and industry to discover Scottish Gin.
A positive voice for the Scottish Gin Industry
We've been part of the Scottish Gin category since 2017, working directly with Scottish Gin brand owners and producers, visiting distilleries all over Scotland and growing our reputation as a positive voice for the industry. We're proud to have contributed to various research projects, published articles and papers, tv documentaries, judged spirit competitions and even helped gin makers refine their recipes. We established International Scottish Gin Day© in 2018 and in 2020 we launched our original online shop. We launched our very own The Gin Cooperative Awards in 2022; an annual competition that recognises and showcases the very best Scottish Gin.
"Natalie and Martin have an unrivalled passion and knowledge for everything Scottish Gin related."

---

Sandy Morrison

Owner and Distiller, King's Hill Gin
We love what we do
In February 2023, we launched this website, ScottishGin.com, providing our customers with one of the largest independent selections of Scottish Gin available online and what we believe to be the most detailed and content-rich; from tasting notes and insight about each gin's production to the people and stories behind the bottles. We love what we do and love that we get to share our passion for Scottish Gin with others. Thanks for being part of our journey.
Natalie Reid
Natalie has held several key business roles in various organisations since graduating from University with a first-class honours degree from Art School in 2005, including oil and gas related roles in training and competence, senior management posts and board level positions. Natalie brings a wealth of experience from her background working with several FTSE listed companies. Her creativity, professionalism and hard work has helped the growth of The Gin Cooperative as the go-to resource for all things Scottish Gin.
Martin Reid
For over 20 years, Martin worked as a graphic designer for various design and media companies. Martin established his own design studio in 2009, Reid Advertising & Design. During Martin's career, he has worked with clients across many business sectors; creating brands, advertising campaigns and marketing materials across print and digital. In 2022, Martin decided the time was right to focus on The Gin Cooperative full-time and spend time learning more about the industry, having gained several WSET qualifications in Spirits.