Free delivery when you spend £100
Certified Scottish Gin
All our packaging can be recycled
Rock Rose Original Edition Gin gets its wonderful flavour from a carefully selected and balanced blend of local and traditional botanicals. Each one meticulously chosen for their flavour properties to create the perfect taste. This signature gin from Dunnet Bay Distillers, makers of the range of Rock Rose Gin expressions is distilled at the family run distillery in Dunnet, in the bespoke stills named Elizabeth and Margaret.
Flavours
Citrus
Floral
Spiced
Piney
Coastal
Fruity
Nose
A delicate bouquet of rose, mixed with deeper cardamom and a touch of citrus.
Taste
Fruity berries merge with a floral nose to give a full-bodied, rounded gin. Bright notes ping as the juniper comes forward.
Finish
The sharpness of the sea buckthorn emerges, but once again is rounded off by berries and a juniper heart. Smooth sherbet lemon notes create a lingering finish.
How to enjoy this gin
This makes a wonderful gin and tonic. Simply add one part gin to two or three parts tonic and garnish with a sprig of rosemary and / or a twist of orange peel.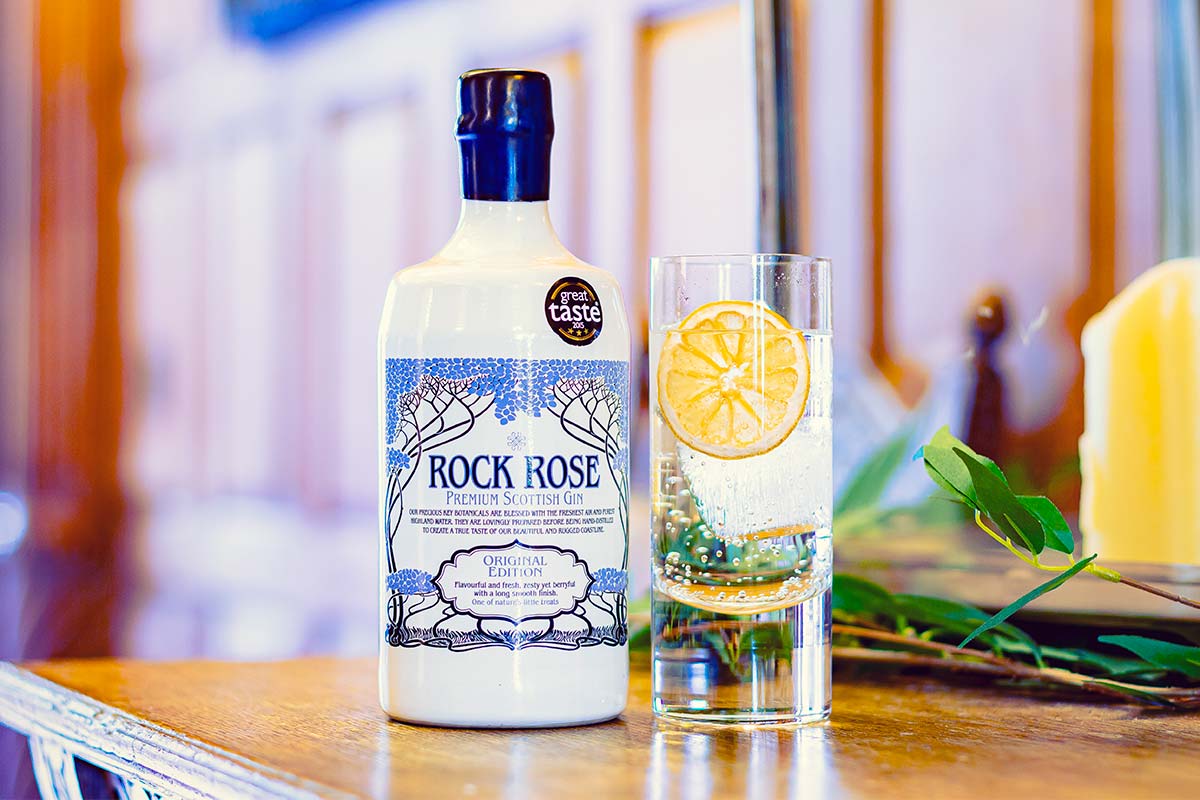 About Rock Rose Gin
Dunnet Bay Distillery was established by founders Claire and Martin Murray, who returned to the Caithness area after years of studying and working away. Their desire to return home and strike the right balance of family and work life, led them to build their own distillery in Dunnet Bay in 2014, just ahead of the Scottish Gin craft boom. They've fulfilled their ambition to create jobs and produce award-winning spirits, which are distributed and enjoyed all over the world.
Production
It's considered to be one of the original new generation craft distilleries in Scotland's growing Scottish Gin sector; Dunnet Bay Distillery, home to the Rock Rose brand of Scottish Gin expressions. As the UK's most northerly mainland distillery, Dunnet Bay Distillery is situated in the picturesque coastal region of Caithness on the North coast of Scotland in the village of Dunnet Bay, established Martin and Claire Murray in 2014 after a long held desire to return to their hometown of Caithness. Rock Rose Gin is made in two bespoke copper pot stills, 'Elizabeth' and 'Margaret', made by John Dore & Co Ltd, the oldest still maker in the world.