Free delivery when you spend £100
Certified Scottish Gin
All our packaging can be recycled
All the botanicals that go into making Inshriach Gin are found growing wild on the estate and surrounding areas, all within a few miles of the distillery. This Navy Strength version of the signature Inshriach 43% Original Gin is bottled at 57% ABV. It's made with locally foraged Scottish juniper berries, juniper shoots and rosehip along with a number of other botanicals providing a sweet, floral, piney flavour. To taste, it's bolder and more piney that the signature 43%.
Flavours
Fruity
Spiced
Floral
Citrus
Earthy
Piney
Nose
Upfront it's resinous but fresh like a winter's forest walk, opens into grapefruit and peach, then dry with potpourri and a backbone of aniseed.
Taste
Bold peppery juniper, with an olive oil feel on the tongue, spiced and tangy but not hot, superbly creamy all the way through into the finish.
Finish
A prickle of juniper re-emerging at the back to bring it all together once the vanilla creaminess fades.
How to enjoy this gin
The bold flavours of this punchy high strength gin are best enjoyed neat or in a dry Martini. For the traditional gin and tonic serve, add one part gin to one or two parts tonic over ice with lemon peel.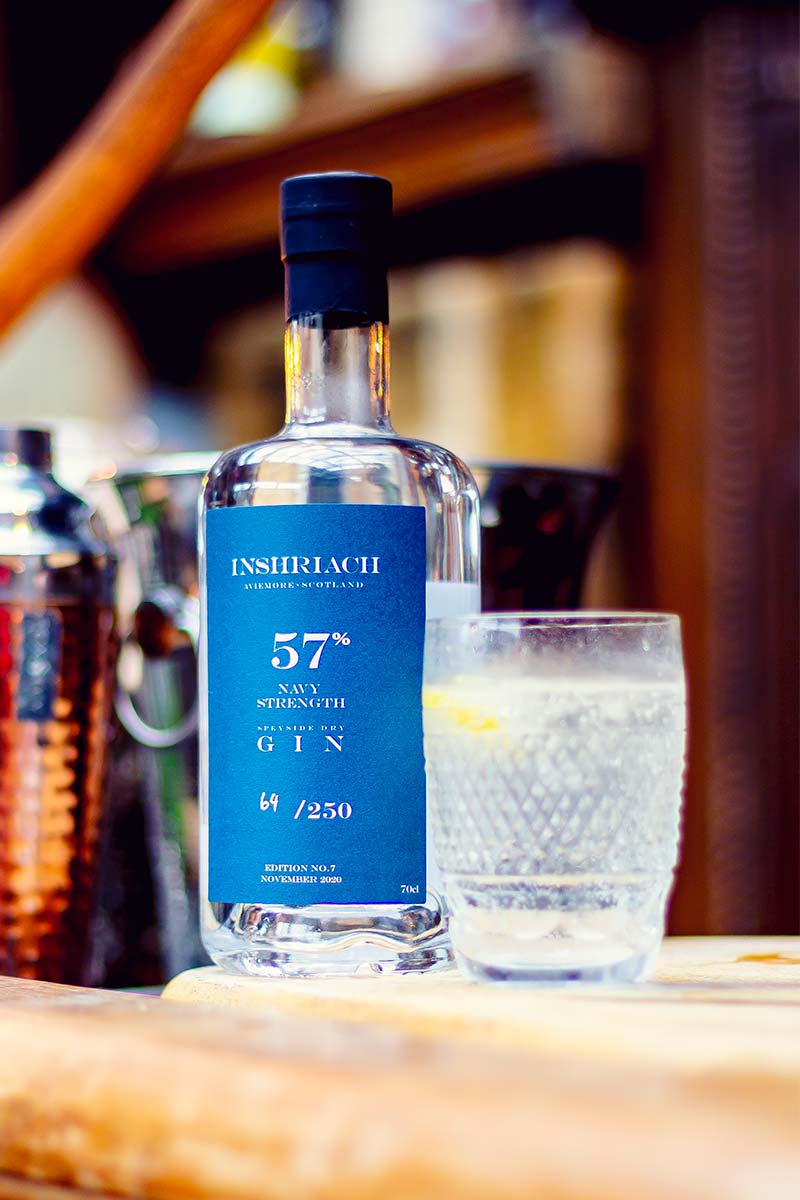 About Inshriach
Inshriach Estate consists of 200 acres of natural woodland and pasture bordered on the north by the river Spey and to the south by the foothills of the Cairngorms and just a few miles away from the famous Lairig Ghru long distance walk. It's here you'll find Inshriach House, an Edwardian country house and the estate's distillery, Inshriach Distillery. The estate also features a number of unique and fun places to stay including bothies and huts. The Inshriach Distillery came to fame in 2015 by winning Channel 4's Shed of the Year, although the distillery is far from what you expect when you picture a typical garden shed.
Production
The Inshriach Distillery is unlike any other distillery in the UK. On first glance, it appears to be an American Western Saloon that might not have looked out of place in the mid 18th century, frequented by cowboys, trappers and those seeking their fame and fortune from gold prospecting. On closer inspection, you'll discover the sparkle of copper and the scent of juniper in the air. Inside you'll discover a traditional copper pot still situated in the gin lab, a bar, a shop and a vast array of artefacts ranging from the curious to the hilarious. The distillery sits on the Inshriach estate, which is a hive of activity throughout the year hosting festivals, camping and bothy experiences and Inshriach House itself.